At A&J Woodworking, we're a passionate team of skilled cabinet makers and designers
When it comes to cabinetry, you have a lot of choices. I know that updating your home, especially the kitchen, is a big step and you've probably thought about it for a long time. I believe it's important to give families what they've worked hard for and I want to make it an enjoyable process. That's why my team and I will spend time with you learning about your tastes and work within your budget to create a space that reflects your personal style.
Founded in 1985, A&J Woodworking has grown to be a full-scale woodworking operation. Beyond cabinetry, our millwork offerings include mantels, interior doors, moldings, wood ceilings and more. We'll coordinate your entire project, using quality woods and finishes that flow from room to room.
So, whether your goal is to create an entire new room, update a countertop, or replace your cabinet hardware, we'd like to show you your many options. When you choose A&J Woodworking, you not only get our 30 years of experience, you make a difference in my life and the lives of our whole team. Each of us care deeply about what we do and are rewarded in knowing that something we made by hand is being enjoyed and appreciated by families just like our own.

A&J Woodworking designs, builds, and installs fine cabinetry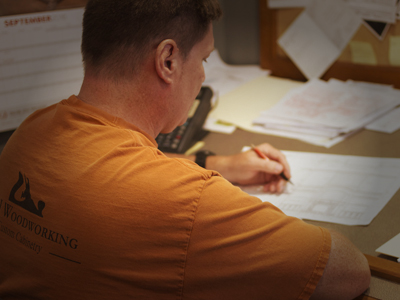 Creating your new space is more than choosing door styles and countertops. It's largely about fit and function. We believe in creating a floor plan and workflow that works for your room, in a way that compliments your entire home. That's why we spend a great deal of time putting pencil to paper before cutting the first board.
Our design process starts with an initial visit, either in our showroom or in your home. Designers will discuss the overall scope of your project and what vision you have for your new space. The design phase is essential to the project's overall success; we'll work closely with you or an interior designer (if you have one). These professionals may also offer suggestions for wall color, flooring, lighting, and other elements to complete your space. We encourage you to take some time to think about your needs and desires. This includes storage options, seating requirements, and style preferences.
Once we have gathered your wish list, we will prepare a free estimate for your consideration. If you accept our proposal, we will begin a more in-depth design process where we gather appliance specifications, create fully rendered 3D elevation drawings, and make custom stain and paint samples. We are committed to the details, and as such you will receive detailed plans and drawings allowing you to visualize your cabinetry before it ever enters our mill shop.
Built beautifully, from the inside out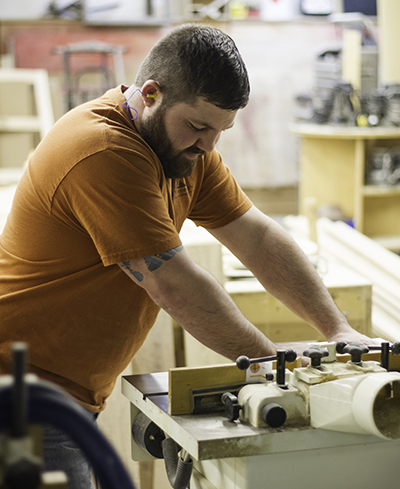 Who said they don't make things like they use to? Our skilled craftsmen employ time-honored handwork and modern technique to bring you old-world quality with new-world style. From wood to hardware to special finishes, we'll work to give you a piece of art that will endure in style and performance.
Unlike many factory-made cabinets where the interiors are made of particle board, A&J Woodworking uses finished birch plywood for superior strength. The cabinet exteriors are constructed of top grade hardwood and our finished solid wood dovetail drawers give our cabinets their lasting durability. Our demand for quality not only goes into the wood cabinets themselves, but into the high-quality glides, hinges, hardware, and accessory items.
Once the building process is complete, each cabinet is sanded thoroughly by hand, and our finishers take pride in applying a smooth, durable finish. You may choose from a distressed finish, stain, paint, glaze, or perhaps a combination of finishes to create your unique look.
After finishing, your cabinets will be delivered and installed by our professional team of installers. Our installers are experienced at installing cabinetry, crown molding, interior doors, and more. So you can be confident that your complete project will fit properly and be ready for you to enjoy.
From design through installation, A&J Woodworking stands behind our products and we address any challenges that may arise. We are able to provide this level of service by communicating with our clients throughout the entire process.